Are you planning on taking the shuttle from one of the park and ride locations to Autzen Stadium, or know someone that is? To help plan your trip, especially if you're already staying within LTD's routes, please follow through to the Autzen Express section on LTD's website.
---
2016 Schedule
Saturday, Sept. 3, 2 p.m. – Football: UO vs UC Davis
Saturday, Sept. 10, 7:30 p.m. – Football: UO vs Virginia
Saturday, Sept. 24, 2:30 p.m. – Football: UO vs Colorado
Saturday, Oct. 8, 4:30 p.m. – Football: UO vs Washington
Saturday, Oct. 29, 2:00 p.m. – Football: UO vs Arizona State
Saturday, Nov. 12, 1:00 p.m. – Football: UO vs Stanford — FREE (Annual sponsored system buy-out for the day.)
---
In addition to LTD's information below the map:
ALL 65+ riders are 'honored' or 'experienced', regardless if you are a "Duck" or a fan of the visiting team, and get to ride at 'no charge'.
Most bus passes will be honored. A board should be placed at each location showing what ones are generally honored, though at the discretion of those assisting, or an LTD employee, others could be honored as well, though not always guaranteed.
Exact change is helpful, but not required. Quarters can be most helpful as well. Either we have plenty, or not enough at times, just like paper clips. 😀
Depending on when the game ends, you can get an 'all-day' pass at Autzen when you arrive to the drop-off area.
I know for certain the last bus from VRC will typically leave no later than 10 minutes after kick-off. I know this, because I'm volunteering to help McCornack Elementary School with one of their fundraisers for the 5th Grade trip; a portion of the day's proceeds is based on how many volunteers are available to assist (the more the merrier as it makes it smoother for everyone).

However, if you find that you are going to be 'late', and would like a ride because you really want to get to the game, then please give me a call at 541-513-3844, and I'll be willing to make the round trip(s). I can safely take up to 4 people at a time in my Chevy HHR.

I'm willing to do this for 'free', but I won't deny anyone's blessing.
— Brian GizmoDuckOR 9.19.16 2133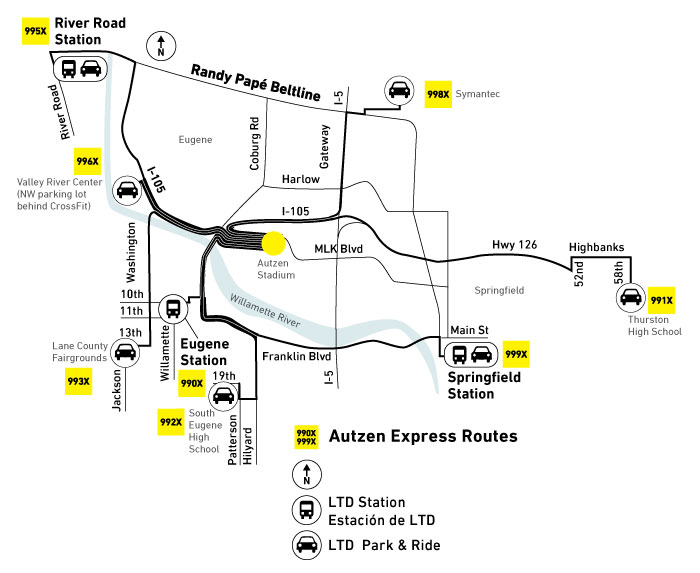 LTD Park and Ride for the Autzen Express
The Autzen Express service is provided for events held at Autzen Stadium. Service begins four hours before the event and buses run every 10 – 20 minutes from eight Park & Rides locations. Return trips are only available during halftime and immediately following the event for 60 minutes. On a typical game day, 80 buses will transport 10,000 people to Autzen Stadium.
Fans can use any LTD bus pass available for purchase in our online store or pay cash on board. Round trip cash fare is $3.50 for adults, $1.75 for youth ages 6 – 18 and free for children 5 and younger or seniors 65 and older. If you're taking the Amtrak Cascades Game Train into town, your print or mobile ticket serves as fare for the Autzen Express and any other route from Friday – Sunday of the game weekend.
Park & Ride Locations
Route 990x: LTD Eugene Station – 10th/Willamette
Route 991x: Thurston High School – 333 58th
Route 992x: South Eugene High School – 400 E. 19th
Route 993x: Lane County Fairgrounds – 796 W. 13th
Route 995x: LTD River Road Station – River Road/River Avenue
Route 996x: Valley River Center – 293 Valley River Center (Northwest parking lot behind Eugene Crossfit)
Route 998x: Symantec – 555 International Way
Route 999x: LTD Springfield Station – S. A/Pioneer Parkway